Hudson Recreation Bench Donation Programs
Hudson Recreation invites those interested in making a positive impact in both the Recreation Programs we offer and the Facilities we operate, to consider contributing to one of the programs listed below. Each donation program below, will serve a specific purpose and donation amounts will vary by program:
2021 Assabet River Rail Trail Bench Donation Program THIS PROGRAM IS SOLD OUT (updated 4/8/21)
… A Partnership Program between Hudson Recreation and MetroWest Moves - Mass in Motion Municipal Wellness and Leadership Initiative
The Hudson Recreation Department is seeking donations to install additional benches on the Assabet River Rail Trail (ARRT). Currently seating on the rail trail is fairly limited and the goal of this project is to expand the seating options so those who need to rest during a walk, run or bike ride have an option to do so about every half mile. This specific program was developed in partnership with the MetroWest Moves Program Coordinator through the Mass in Motion Municipal Wellness and Leadership Initiative. Mass in Motion's goal is to lower the risk of chronic disease by supporting equitable food access and active living opportunities in cities and towns throughout Massachusetts. Working with a diverse network of partners, such as the Hudson Recreation Department, Mass in Motion Communities implement proven policies and practices to create environments that support healthy living.
This is a great way to support our local recreation department while memorializing or honoring a loved one. Each $500 (tax deductible) donation will go towards the installation of one new bench and a personalized plaque to be displayed upon it (Note: plaque text will be standardized to ensure uniformity). A total of six (6) new benches will be placed along the Hudson portion of the A.R.R.T. in 2021. All Bench locations have been predetermined, please see map below.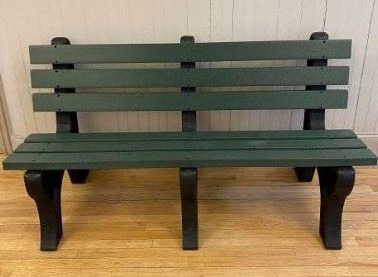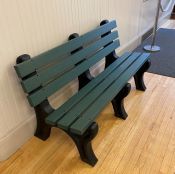 Those interested should contact Metrowest Moves Program Coordinator, Kali Coughlan via email at kcoughlan@townofhudson.org directly to reserve your bench today. Benches will be reserved on a first come, first serve basis and full payment (via check) will be required within 30 days of receiving your donation confirmation. If you have any questions concerning this Bench Donation Program, please email kcoughlan@townofhudson.org or call 978-310-1806.
Thank you for your consideration and support.
Key Program Notes:
Cost: $500.00 (tax deductible) - please make checks payable to Town of Hudson
Availability: 6 Benches - First Come, First Serve
Installation Deadline: All benches will be installed by June 30, 2021
Program Contact: Kali Coughlan -Email: kcoughlan@townofhudson.org, Phone: 978-310-1806
UPCOMING BENCH DONATIONS PROGRAMS…
None available at this time...updated 5/24/21