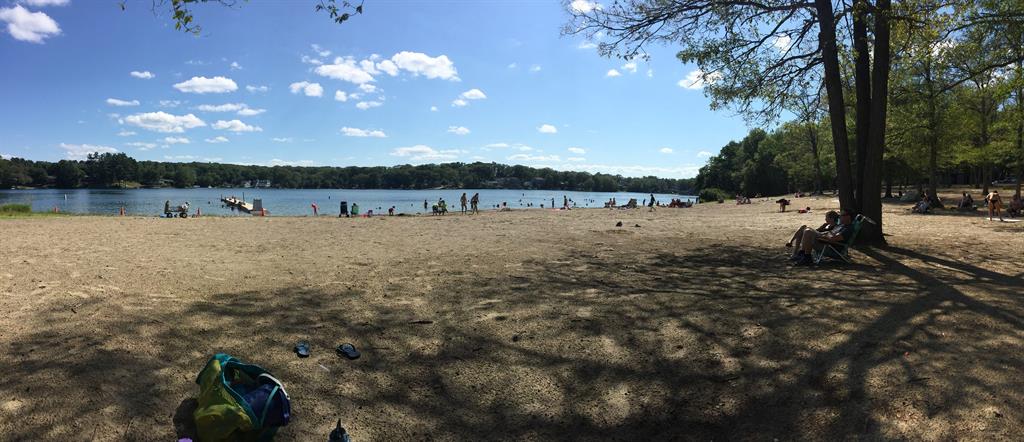 …Last updated May 7, 2019

The intent of this page is to keep the public up-to-date with regard to the progress of the Centennial Beach Renovation Project
BACKGROUND
In the mid 1960's, the Town of Hudson MA, through its Park Commission developed the property currently known as Centennial Beach for use as a Park, Beach and Recreation Purposes. Over the last fifty years the site has been home to the local Town Beach serving both residents and non-residents during the summer months. Site amenities over the years have included: playground, swings, picnic tables, outdoor showers, docks, designated bathing and fishing areas. Facility programs have revolved around a robust swim program servicing approximately 300 participants each summer. The site currently consists of a 350 shoreline, a 0.8 acre sandy beach area and a 0.6 acre shaded picnic area, bathhouse and parking area.
In 2014-2015, Recreation officials worked with a civil engineer, landscape designer and architect to design a concept plan for site improvements. The concept plan aimed to remedy and improve the dilapidated bathhouse, accessibility issues, failing storm water management systems and the lack of erosion controls that have left the facility in poor condition. The concept plans were reviewed by the Park Commission and other town departments such as Police, Fire, Public Works, Building Inspections and Planning for input and suggestions. Using the initial concept plans, cost estimates for improvements were projected to be approximately $1.2 million.
At the May 2015 Town Meeting, with an initial concept plan and cost estimates in hand the Park Commission – Division of Recreation requested and received Community Preservation funding in the amount of $100K for the purpose of securing a design firm that would create a final design based on the concept plan, prepare all permitting and construction documents, assist in bidding the project and handle construction oversight to complete the project. On October 16, 2018, the Town of Hudson entered into a contract with the firm Weston and Sampson for DESIGN SERVICES related to Centennial Beach renovations.
PROJECT FUNDING SOURCE
The Hudson Park Commission - Division of Recreation intends to submit a full funding request to the Community Preservation Committee (CPC) at their meeting to be held on January 10, 2019. If the application is supported by the CPC, the allocation of CPC funds would then require final approval by way of a favorable vote at the May 2019 Annual Town Meeting. Should Town Meeting vote in favor of this funding request, project funds would be available as early as July 2019.
Note: The Community Preservation Committee in conjunction with the Community Preservation Act (CPA) which was adopted by the Town of Hudson on November 20th, 2006.
The first public input session specific to the beach renovation project was held on Wednesday, December 12, 2018 at Hudson Town Hall. This meeting was co-hosted by both Weston & Sampson and the Recreation Department staff. Below is a PDF of a slide presentation, which was presented at that session. The presentation includes Project Goals, Key Project Issues, Initial Concepts, Precedents, and a proposed Timeline.
The Park Commission will be soliciting public input via the meeting scheduled for Wednesday, January 10, 2019 (see below). It is also anticipated that additional meetings/public hearings may take place throughout the final design process involving departments and committees such as that the Conservation Commission, Planning Department and the Internal Traffic Committee. Note: All meetings will be posted below as the dates, times and locations become available.
Public input has also been collected thru email correspondence between community members and the Division of Recreation staff, as well as thru previous Community Outreach performed in 2018 (Online Community Survey, completed Spring of 2018 and Community Innovation Session, held in June 2018).

CLICK HERE to see input other community member have already provided. Although we encourage residents to share their thoughts and ideas with moving forward, please note that the ideas and suggestions listed within have already been shared with the our Designer and will be taken into consideration.
UPDATES
-Any NEW public project input received during the Park Commission meeting held on January 9th has been added to our list located in the Public Input section above.
-At the Community Preservation Committee meeting held on January 10th, the CPC voted to support our project, as well as our request for funding to be used for the future construction phase of the Centennial Beach Renovation Project. The CPC will submit warrant articles for consideration at the May Town Meeting, as the next step in securing final approval of the CPC funds for our project.
-Over the next several months, the Centennial Beach Renovation Project Building Committee (consisting of the Director of Recreation, Director of Public Works and a Park Commissioner) will continue to work with Weston & Sampson to bring the existing plans to a final design. We expect that this project will go before the Conservation Committee and the Planning Board for comment in the coming months and once those meeting dates are determined we will post them below.
-We thank everyone for their support to date, we look forward to continuing the work to complete this project for the benefit of our community and encourage everyone to attend Town Meeting in May.
April 3, 2019 Update:
March 19-21: Weston & Sampson submitted final design plans to both the Hudson Conservation Commission and the Planning Board for review. Meeting dates have been scheduled (see below).
March 27: Finance Committee reviewed the request for use of Community Preservation Committee funds to support this project and voted in favor of the Town Meeting Warrant Article.
...We encourage anyone interested in learning more about this project to contact Steven Santos, Director of Recreation as well as attend both the Conservation Committee and Planning Board meetings in April, as well as the Annual Town Meeting on May 6th.

April 19, 2019 Update:
April 4: Conservation Commission reviewed project and permitting level plans. Conservation Commission requested additional details on some items and continued Public Hearing until April 18. Commission was supportive of the project as presented.
April 16: Planning Board reviewed the project and permitting level plans. Planning Board requested additional details on some items and continued Public Hearing until June 4. Planning Board was supportive of the project as presented.
April 18: Conservation Commission re-opened and continued the public hearing from April 4, relative to the Beach project. Weston & Sampson provided the Commission with responses to all questions/concerns raised. Discussion followed. The Conservation Commission voted to support our project subject to planning board approval, as required. Conservation Commission continued public hearing to June 6 (earliest meeting following June 4 Planning Board meeting).
We encourage anyone interested in learning more about this project to contact Steven Santos, Director of Recreation as well as attend the Annual Town Meeting on May 6th.
May 3, 2019 Update
May 7, 2019 Update
Thank you to everyone who came out to Town Meeting and who supported the Articles pertaining to this project.
Articles 26 and 27 both passed at May Town Meeting. The next steps are to finalize construction documents and put the project out to bid. We hope to complete both of these this summer.

PROJECT MEETINGS
-Wednesday, January 9th - Park Commission Meeting, 7:30 pm, Town Hall - Board of Selectmen's Hearing Room
-Thursday, January 10th - Community Preservation Committee Meeting, 7:00 pm, Town Hall - Auditorium
-Thursday, April 4th - Conservation Commission, 7:00pm, Town Hall
-Tuesday, April 16th - Planning Board, 7:00pm, Town Hall - Board of Selectman's Hearing Room
-Thursday, April 18th - Conservation Commission, 7:00pm, Town Hall
-Monday, May 6th - Annual May Town Meeting, 7:30 pm, Hudson High School - Auditorium; Articles 26,& 27
-Tuesday, June 4th - Planning Board, 7:00pm, Town Hall - Board of Selectman's Hearing Room
-Thursday, June 6th - Conservation Commission, 7:00pm, Town Hall
COMMENTS/QUESTIONS